---

Email Lyle to register for a class, or to request additional information.
---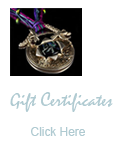 Class Policies
Attendance - must be confirmed by email from the instructor prior to registration. Class sessions are non-transferable, i.e. you cannot "give" a session to another person.
Drop-in classes – must be coordinated with the instructor and subject to space availability.
Fees – all class fees must be paid in full by the start of the first session.
Costs - the cost for each Exploration's class, in each series, is $30. The fee for each drop-in class is $40.
Pre-class Cancellation – If you cancel prior to the first session, a percentage of your deposit will be refunded as follows: up to 2 weeks before class: 75%; up to 3 days before class: 50%; less than 3 days before class: 25%.
Post-class Cancellation - if you cancel after the first session, this session will be considered a drop-in class and the remaining balance may be applied to the cost of a future class taken within 90 days of the date of cancellation.
Firing Fees – Any piece made during class will be fired for you at no charge. The cost for firing pieces made outside of class will be $12 per kiln load, or $2 per piece when included as part of another firing. Firing without taking a class will be $15 per kiln load, or $3 per piece.
Purchasing Materials – Students may purchase Hadar's base metal clays from the instructor at the suggested retail cost. Silver clay can be purchased from the instructor at a reduced student rate. AZ sales tax will be charged for all purchases.
Note: If you have an AZ resale number and would like to purchase clay for resale without paying sales tax, you may do so by signing the appropriate reseller certificate, available from the instructor.
Projects – all handouts are the intellectual property of Hadar Jacobson and/or Lyle Rayfield and are protected by copyright. You may sell pieces you have made according to or inspired by the instructions for the project, but you may not teach a class using the handouts or their content, or give the handouts to other people without permission. Students who complete the beginner's class will not receive intermediate or advanced class project sheets without signing up for those classes.
Unclaimed Pieces – the instructor is not responsible for pieces, fired or unfired, that are left in the studio for a period exceeding 30 days.
Use of the Studio – Tools are available for use at the studio at no charge. Some tools, gemstones, wire, and other findings are available for sale.
The instructor reserves the right to refuse any student admission to the studio for any reason.
This policy is posted on the Studio's bulletin board and on the website at www.lylerayfield.com