---

Email Lyle to register for a class, or to request additional information.
---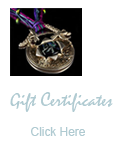 Classes
Here you can find currently scheduled classes, plus a general synopsis, or descriptive menu, of the types of classes offered, including Art Clay Certification classes. All classes,* including certification classes, are available "On-Demand" by contacting me to arrange a date and time. Private lessons can also be scheduled... please contact me for details.
* Living Social classes are not eligible for On-Demand scheduling.
Available Classes
(To view a synopsis of any class, click on the class title)
Metal Clay Class Offerings

Metal Clay is a revolutionary new technology in jewelry making. This new material consists of microscopic particles of metal, such as silver, gold, bronze, or copper, mixed with an organic binder and water. It is worked like any soft modeling clay and, when dry, can be fired with a handheld torch, in a kiln, or on a gas stovetop. The binder burns away, leaving you with a solid piece of pure metal and a beautiful piece of jewelry.

Metal Work Classes

Art Clay Certification Classes