---

Email Lyle to register for a class, or to request additional information.
---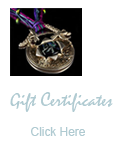 Classes
Here you can find currently scheduled classes, plus a general synopsis, or descriptive menu, of the types of classes offered, including Art Clay Certification classes. All classes are available "On Demand" at an additional cost. Private lessons are also available. Please contact me for details.
COVID Update
In person classes are available only to fully vaccinated students and will be limited to 4 in an effort to maintain maximum social distancing around the classroom table. Surfaces will be sanitized prior to each class. Personal metal clay tools are recommended, however, student tools will be available if requested. At this time, masks are not required, however mask protocals may change based on updated health recommendations.
Available Classes
(To view a synopsis of any class, click on the class title)
Metal Clay Class Offerings

Metal Clay is a revolutionary new technology in jewelry making. This new material consists of microscopic particles of metal, such as silver, gold, bronze, or copper, mixed with an organic binder and water. It is worked like any soft modeling clay and, when dry, can be fired with a handheld torch, in a kiln, or on a gas stovetop. The binder burns away, leaving you with a solid piece of pure metal and a beautiful piece of jewelry.

Metal Work Classes

Art Clay Certification Classes