Email Lyle to register for a class, or to request additional information.
---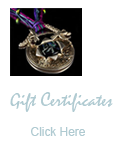 Gift Certificates
Gift certificates are available from $25 to $100 and are a great way to say happy "whatever" day to a friend or family member... treat them to a workshop where they can make their own beautiful jewelry, or let them select a piece that I have designed.
Here's what you do:
Select the amount you wish to give from one of the drop down boxes below.
Purchase the certificate using your credit card or PayPal account using our secure checkout.
Shortly after checking out, you will receive your gift certificate via email.
Buy a Gift Certificate