Email Lyle to register for a class, or to request additional information.
---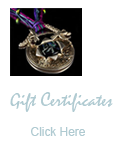 Thank you for visiting my website. My intention is to have you get a sense of who I am as an artist and educator as you navigate your way throughout the site. Please enjoy, and contact me if you have any questions.

Classes: here you can find currently scheduled classes, plus a general synopsis, or descriptive menu, of the types of classes offered, including Art Clay Certification classes. All classes are available "On Demand" at an additional cost. Private lessons are also available. Please contact me for details.

Events and Shows: a list of gallery and gift shops where my work is exhibited for sale, along with expos and art fairs at which I am exhibiting and/or teaching.

Artist's Page: bio, awards, inspiration.

The Studio: views of the classroom and surrounding Sonoran Desert.

Featured Works: a visual sampling of my jewelry work.

Gift Certificates: here you can purchase gift certificates starting at $25.